Latest News
Newsweek: Kinzinger Warns Replacement Theory 'Getting People Killed,' Blasts Greene
Representative Adam Kinzinger, an Illinois Republican, blasted the "great replacement theory" promoted by some GOP lawmakers and commentators, contending that it's "getting people killed" in the wake of the Buffalo, New York, mass shooting on Saturday.
The "great replacement" is a right-wing conspiracy theory that claims white people and their dominance in society will be eradicated through immigration and higher birth rates among minority groups. Some on the right, such as Fox News host Tucker Carlson, have claimed that Democrats are utilizing this as a strategy, with the goal of dominating politically moving forward.
The shooter who carried out the Christchurch, New Zealand, mosque shootings in 2019 touted the theory. He warned of what he described as "white genocide," while other acts of violence in recent years have been attributed to a belief in the conspiracy theory as well.
"Here is my replacement theory: we need to replace @EliseStefanik @GOPLeader@RepMTG @CawthornforNC and a number of others," Kinzinger tweeted Sunday, taking aim at GOP House Minority Leader Kevin McCarthy of California, House Republican Conference Chair Representative Elise Stefanik of New York, GOP Representative Marjorie Taylor Greene of Georgia and GOP Representative Madison Cawthorn of North Carolina.
"The replacement theory they are pushing/tolerating is getting people killed," the Republican lawmaker added.
Kinzinger, a staunch critic of former President Donald Trump, has repeatedly slammed McCarthy, Stefanik, Greene and Cawthorn in recent months. The GOP congressman, who is not seeking reelection in November, has called out their support for the former president, as well as their other controversial actions and views.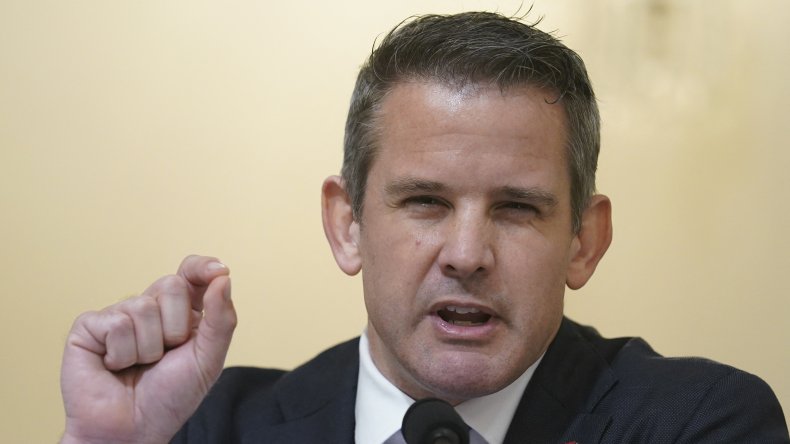 The suspect in the Buffalo shooting, a white 18-year-old identified as Payton Gendron, reportedly wrote an 180-page manifesto that detailed racist, anti-immigrant and anti-Semitic beliefs. Gendron allegedly opened fire at a supermarket, killing 10 people in what authorities said was "racially motivated violent extremism." Eleven of the 13 people that were shot are Black.
Stefanik drew backlash after the attack, as critics pointed to ads they said invoked the "great replacement" conspiracy theory. Kinzinger called out the prominent Republican lawmaker.
"Did you know: @EliseStefanik pushes white replacement theory? The #3 in the house GOP. @Liz_Cheney got removed for demanding truth. @GOPLeader should be asked about this. Stefanik Blasted for 'Despicable' Facebook Ads Pushing 'Replacement Theory,'" he tweeted Saturday evening, sharing an article reporting on the controversy.
Stefanik was elected by House Republicans to her No. 3 leadership role after Representative Liz Cheney, a Wyoming Republican, was ousted from the position last May. Cheney, like Kinzinger, has become a staunch Trump critic, and has also called out fellow GOP lawmakers for continuing to align with the former president.
Kinzinger was referencing a 2021 controversy, when Stefanik's hometown newspaper, Times Union, accused her in an editorial of promoting the great replacement theory. That article came after the congresswoman ran a Facebook ad that said: "Radical Democrats are planning their most aggressive move yet: a PERMANENT ELECTION INSURRECTION." An image of numerous migrants reflecting in the aviator sunglasses worn by President Joe Biden was included within the text.
Stefanik responded at the time, writing in a Facebook statement: "How low, Times Union? To equate opposition to illegal immigration with Nazism and white supremacy is a desperate attempt to stoke outrage & avoid covering Joe Biden's border crisis."
The conspiracy theory suggested in Stefanik's ad contends that Democrats aim to control future elections by granting more immigrants citizenship—assuming that they would all vote for the political party's candidates moving forward. Although Black and Latino voters in the current political environment are more likely to vote for Democrats, according to recent political trends, Republicans made notable gains with Black and Latino voters in the 2020 election.
In response to a Sunday request for comment from Newsweek, Stefanik's spokesperson forwarded Newsweek her statement regarding the Buffalo mass shooting as well as a statement from Alex deGrasse, a senior adviser to the GOP congresswoman.
"Our nation is heartbroken and saddened to hear the tragic news of the horrific loss of life in Buffalo, NY," Stefanik said. "As a New Yorker, I am praying for the entire community and loved ones. It is a tragic reminder as we begin National Police Week, that we must particularly thank and honor our law enforcement and first responders who continue to face skyrocketing violent crimes across the nation." Stefanik also tweeted a similar statement on Saturday.
"Any implication or attempt to blame the heinous shooting in Buffalo on the Congresswoman is a new disgusting low for the Left, their Never Trump allies, and the sycophant stenographers in the media. The shooting was an act of evil and the criminal should be prosecuted to the fullest extent of the law," DeGrasse said.
"Despite sickening and false reporting, Congresswoman has never advocated for any racist position or made a racist statement."
The entire article can be found on the Newseek website here.