Latest News
Newsweek: Adam Kinzinger Says Fellow Republicans 'Scared' to Talk About Gun Issue
Representative Adam Kinzinger called out his fellow Republicans on Sunday for being "scared to death" to talk about gun control following the deadly mass shooting at a Texas elementary school earlier this week.
Calls for gun control have been renewed after 18-year-old gunman Salvador Ramos opened fire inside Robb Elementary School in Uvalde, Texas, killing 19 students and two teachers, last Tuesday.
Kinzinger, an Illinois Republican, criticized his own party's response to the mass shooting during an interview on CNN. He slammed Republicans who have instead sought to blame the country's mass shooting epidemic on mental health and have suggested efforts to "harden" schools to prevent shooters from gaining entry.
"What you're seeing right now is all these politicians that are scared to death to talk about the gun issue. They know that this is an issue, but they're scared to talk about it so they launch into this thing about mental health," he said.
The congressman explained that while he agrees mental health is a problem, he "highly doubts" the politicians using it to evade gun control have funded mental healthcare.
Kinzinger also knocked proposals to introduce other security measures into schools. Some Republicans, rather than tighten gun laws, have suggested reducing the number of doors or hiring more security guards to prevent more shootings.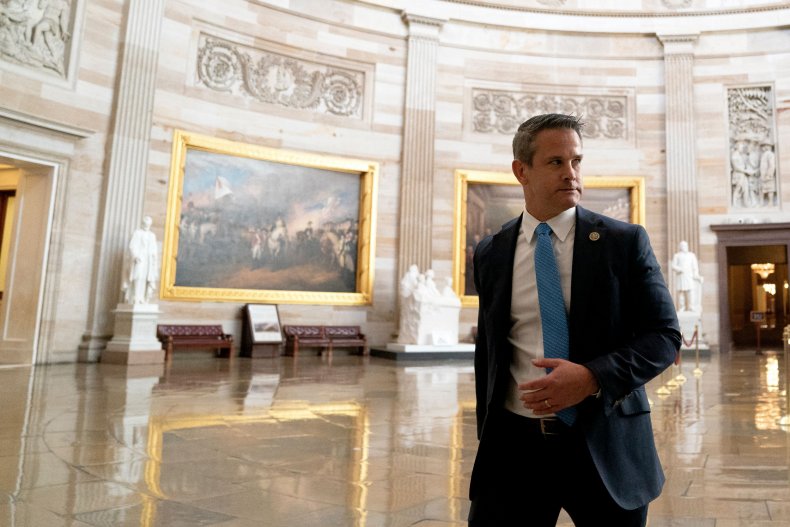 "If we think that just hardening schools—basically turning schools into military camps is going to be the answer. Even if it does work, which it won't. But even if it does, that isn't the type of country I want to live in," he said. "I have a kid that's four months old now that will be going to school someday. I don't want to have a military ID to check him into the front gate of his elementary school."
The Republican lawmaker also said that while he previously opposed bans on AR-15 rifles, which is a weapon commonly used by mass shooters, he is now open to a ban.
"It's going to depend what it looks like because there's a lot of nuances on what constitutes certain things," he said. "But I'm getting to the point where I have to wonder, maybe somebody to own one, maybe you need an extra license. Maybe you need extra training."
In the shooting's aftermath, a handful of Republicans have also indicated they are more open to gun control efforts.
Representative Chris Jacobs, a New York Republican, recently said that he would support a flurry of gun control policies in the wake of both the Uvalde and Buffalo, New York, mass shootings. In Buffalo, a teenage gunman, who was motivated by racial animosity, opened fire inside a Tops Friendly Market grocery store, and killed 10 Black people.
"Being a father and having young children and visualizing what those parents are going through and, I guess, being able to feel it more personally certainly has had an impact as well," he said, who received an endorsement from the National Rifle Association (NRA) in 2020.
Actor Jon Voight, who is a Republican and vocal Trump supporter, also said there should be "proper qualifications" for gun ownership in a Saturday video statement.
The entire article can be found on the Newsweek website here.